I'd started watching The Flash when it first came on, but then deadlines got the better of me and I just wasn't into it, in part because I thought much of the acting was poor, and I stopped. The hubs, however, continued on and loves it.
Barry Allen, aka the Flash, did a guest shot late in Season 1 of Supergirl and it rekindled my interest in The Flash. And then, with Supergirl moved from CBS to the CW, with the prospect of crossovers galore within the Berlanti Superhero Factory Shows ™ (Arrow, The Flash, Supergirl, and Legends of Tomorrow), I decided to tune in to The Flash again and see if I wanted to stick around. Turns out, I do.
Season 1 dealt with Barry (Grant Gustin) getting his powers, and discovering that a lot of other people got powers, too. Central City is pretty much the metahuman capitol of this particular world. Barry's mother was murdered when he was a child and his father (former Flash, John Wesley Shipp) wrongfully imprisoned for her murder. So Barry grew up with detective Joe West (the ever-awesome Jesse L. Martin) and his daughter Iris (Candice Patton). Barry has always been in love with Iris.
Star Labs and its creator, Harrison Wells (Tom Cavanaugh) were instrumental to Barry becoming the Flash, particularly Caitlin Snow (Danielle Panabaker) and Cisco Ramon (Carlos Valdes). And now it gets complicated.
Wells was evil because a speedster from the future stole his face in order to train Barry to be a worthy opponent. Sacrifices were made. Somewhere during this time Joe's long-long/didn't know you existed son, Wally West (Keiynan Lonsdale) also shows up to join Team Flash. And then, in Season 2, Barry realizes he can run fast enough to change time, so he goes back in time to save his mother's life, which creates an alternate timeline – Flashpoint. Things are different, and not necessarily good for people Barry cares about, and Barry ultimately decides at the start of Season 3 that he's been selfish and wrong—helped by the fact that the Flashpoint world is starting to have negative effects on him and others – and he has to make things right. So he goes back again, with the help of Reverse Flash/Eobard Thawne (Matt Letscher) and allows his mother to be murdered – but things are again changed and again not all for the better. And, apparently Barry's brought back Dr. Alchemy, who's determined to give everyone who had powers in Flashpoint their powers back in the new timeline – including Wally.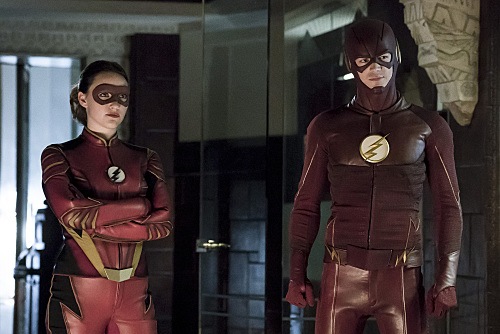 Also, Caitlin and Cisco both have powers, there are 52 Earths (this IS a DC show, remember), and they find a good Wells and his speedster daughter, Jesse (Violett Beane), who help out, Caitlin and Cisco are both evil on at least one other Earth, and Barry's changed things both in Central City and in the Arrowverse, aka on the show that started it all, Arrow. And it seems like everyone and their brother can access the speed force. Oh, and Barry's father is now also dead and yet someone who looks just like him is a Flash from another Earth. Good Wells and his daughter have to go home, and they find yet another Wells from another Earth to fill in. He might be evil, he might be a flunky, he might be good, we don't know.
Confused yet? You'd think you would be, right, but, honestly, it was pretty easy to jump back into this show – having, remember, only seen about 5 episodes of the first season – and follow along. The Berlanti shows are great about giving you pretty much all you really need to follow along in their opening credits.
The acting has greatly improved from Season 1. Martin and Gustin were always good, as was Cavanaugh, but the rest, even Panabaker, were inconsistent. Now, everyone's settled into their roles and the cast has had to work to play different versions of themselves and I find that I no longer "notice" the acting, I'm just enjoying it.
The storyline is fun, because time travel in this show has consequences (unlike in Legends of Tomorrow where it sometimes does and sometimes doesn't), and we see the results of Barry's bad decisions play out in a variety of ways.
The show achieved some amazing casting this season as well, since we have Tom Felton (aka Draco Malfoy) as Barry's co-worker/nemesis Julian Albert. Felton is a seasoned actor and he's great – as with the Wells character, the show keeps you guessing – is he good, is he bad, is he just unimpressed with Barry, is he lonely? We don't know yet, but Felton makes us want to find out.
The show keeps up with its namesake and is fast-paced, with a good blend of humor, romance, and mystery to go along with its action. Unlike Arrow, which tends to be on the dark side, The Flash remains reasonably sunny, even when things go bad. It's also about to launch a four-show crossover week starting Monday, November 28th (beginning in Supergirl), which should be an excellent place to jump in if you haven't given it a try yet. Now's a great time to try out the speed force (and the rest of the Berlanti Superhero Factory ™ shows) and see if you want to run with it.
Rating: 4 Stars