Supergirl Season 1 ended with several bangs, the biggest one being it was dropped from CBS and picked up by the CW. Which is a good thing in many ways, since the CW is home to the Berlanti Superhero Factory ™ and therefore is where Supergirl belongs.
There are changes, however. But first, for those who might have missed Season 1… Supergirl tells the story of Superman's cousin, Kara Zor-El aka Kara Danvers (Melissa Benoist, still perfect in the role), who came to Earth to help raise her younger cousin, but got stuck in the neutral zone and only got out after Kal-El, aka Clark Kent, was grown up. She was raised by the Danvers family and, due to the plane her adopted sister, Alex (Chyler Leigh), was on being in trouble, came out as Supergirl.
Season 1 dealt with all the issues someone coming out as an alien would, along with family backstory both on Krypton and on Earth, Kara learning that Alex works for the DEO (Department of Extra-Normal Operations) under Hank Henshaw (David Harewood) who turns out to be the Martian Manhunter, J'onn J'onzz, Kara learning from her boss and role model, Cat Grant (Calista Flockhart, awesome), falling in love with James Olson (Mechad Brooks), and dealing with the fact that her best friend, Winn Schott (Jeremy Jordan) was in love with her, while fighting with other Kryptonians and a variety of scary aliens in order to protect Earth and humanity, and everyone parrying with the Elon Musk-like Maxwell Lord (Peter Facinelli) who is both an enemy and an ally, depending.
With the end of Season 1, it looked like Kara was going to have it all – a new job at Catco, James as her boyfriend, things all patched up with Winn, Alex and Hank not on the run, and so forth. But a pod crashed down in National City and we ended the season with the shot of Kara looking shocked, staring at whoever was inside.
Season 2 brings changes, most of them good. But first, the bad changes. Because the show has moved to the CW and now films in Vancouver instead of Los Angeles, Cat Grant's gone walkabout and we haven't heard Lord's name even mentioned because Calista Flockhart and Peter Facinelli are not able to do the show on a regular basis (though I expect to see them during sweeps) and the character of Lucy Lane (Jenna Dewan Tatum), James' former girlfriend and, at the end of Season 1, the co-leader of the DEO is simply gone with no explanation whatsoever. Kara also decides, pretty much out of the blue, that she no longer wants to have a romantic relationship with James. Since all of Season 1 dealt with her love for him, this was, frankly, a weird twist we got in episode one. James looked as confused as I felt, and I still find the decision to not allow Kara and James to even TRY to date to be kind of cheap, especially after an entire season's worth of their romantic dance and various entanglements. I'm not saying Supergirl should be all about the romance, but the other Berlanti shows deal with romantic subplots all the time, and when those relationships succeed or implode, they've done so in a way that's organic to their series. In this case, I felt like the decision was made not by the characters, but by someone who wanted to "go in another direction" or someone who couldn't deal with the idea of an interracial relationship (again, something that happens on every Berlanti show, so there's no precedent at all for this). I spent an entire season waiting to see Kara and James DATE and I got… nothing.
So Kara's lost her mentor/role model, her nemesis, and her boyfriend by the end of the first episode. But, what did she get in return?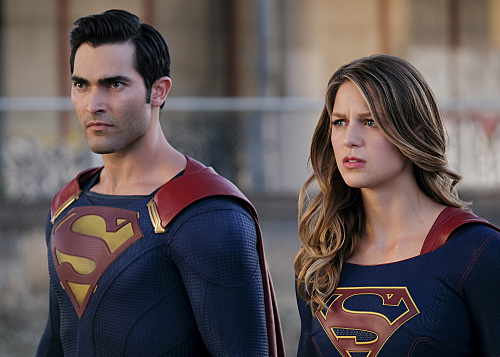 First off, the DEO has moved to swanky new digs (in, per the outside shots, the Bonaventure in downtown Los Angeles, which I find hilarious though I don't think the showrunners did that to be funny) that were "always there" even though Kara never knew about them. The dude in the crashed pod is from a sister planet to Krypton, and Mon-El (Chris Woods) is the party alien to Kara's uptight people pleaser. And that brings in what, honestly, I'm happy we got – Superman (Tyler Hoechlin) himself, though he's not there full time since he has Metropolis to manage. Winn has left Catco and is now working for the DEO full time. James has been given control of Catco and we get to see him dealing with how to run things in his own way. Kara's chosen to become a reporter (in the DC universe, there are only two callings equal to being a superhero – cop and reporter) and has to learn under Snapper Carr (Ian Gomez). Kara's gotten a new mentor/role model in Lena Luthor (Katie McGrath) Lex Luthor's adopted younger sister who, at least as far as we know, is doing her best to not be like her brother. Alex has just met Det. Maggie Sawyer (Floriana Lima) and realized that she's gay (done wonderfully, by the way). James has decided he's going to be a superhero and convinced Winn to build him a super-suit so he can become Guardian. And the new nemesis for everyone is both a thing and a person – CADMUS, the terrifying "research facility" that is actually doing horrific experiments and more on humans and aliens, is on the scene and is embodied by a very scary, dedicated woman who, in the last episode, we got to discover is Lillian Luthor (Brenda Strong), Lex and Lena's mother. Yes, this has all happened in the first 5-6 episodes. These shows move fast.
The bond between Kara and Alex is still strong, and still one of the things I like best about this show. The sisters can and do fight, but ultimately, they love each other and are willing to risk everything for each other. The friendships are strong – even though Kara essentially dumped James and broke his heart (for, again, no reason), he and Kara are still tight, as are Kara and Winn. James and Winn are becoming bros. Superman and Hank/J'onn have issues with each other, but will still be there for each other. Hank is still the father figure for both Kara and Alex. And CADMUS and the woman running it is scarier than Maxwell Lord ever was.
As with the other Arrowverse shows, the supporting casting, especially for guest stars is great. Dean Cain, aka a Former Superman, is Jeremiah Danvers, and Helen Slater, aka a Former Supergirl, is Eliza Danvers. We saw more of Eliza than Jeremiah in Season 1, but since we found out that CADMUS took Jeremiah, I expect to see him showing up sometime soon. We also have a cool subplot going about the "last daughter of Mars" M'gann M'orzz (Sharon Leal) who, as it turns out, is not quite what she seems.
I still love this show. Without Cat Grant it's not quite as great as it was in terms of Woman Power or pop culture references – though the Woman Power is definitely still there and Winn does his best to keep those pop culture jokes coming – but it's managing to still be exciting, interesting, engaging, positive, and fun. It remains one of my favorite shows, and I'm particularly looking forward to the crossover starting Monday, November 28th, that will have the characters from Supergirl, The Flash, Arrow, and Legends of Tomorrow all involved in a gigantic storyline. If you haven't indulged in this show yet, that's probably the week to start. Crossover or not, though, I encourage you to leap over that tall building in a single bound and give Supergirl a try.
Rating: 5 Stars